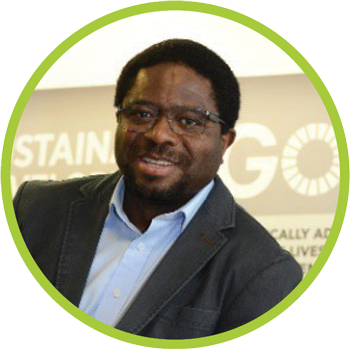 Dr. Appolinaire Djikeng
Board Member
Prof. Appolinaire Djikeng holds vast experience in research, capacity building and international development. He has over 20 years' experience leading multi-disciplinary, multi-institutional and global research and development programs focused on agricultural development and human health. His interests are focused on genetic improvement for sustainable and profitable livestock development in low- and mid-income countries (LMICs). 
Between 1999 and 2009, he held research fellowships and faculty positions at Yale University School of Medicine and the J. Craig Venter Institute in the USA focusing on infectious diseases of human and livestock animals, and on technology development and applications for a wide range of genomics and metagenomics initiatives. He served as Deputy, then Director of Biosciences eastern and central Africa (BecA-ILRI Hub) at the International Livestock Research Institute (ILRI, Nairobi, Kenya) between 2009 and 2017 where he built research and support teams, mobilized resources, developed innovative partnerships with donors, research institutions, universities, and national programs in the LMICs. 
In 2017, he moved to the University of Edinburgh where he is currently a professor and chair of Tropical Agriculture and Sustainable Development, as well as the Director, Centre for Tropical Livestock Genetics and Health (CTLGH). CTLGH is a strategic livestock research and development alliance, between the University of Edinburgh (The Roslin Institute), Scotland's Rural College and the International Livestock Research Institute (ILRI) with operating nodes in the UK (Edinburgh) and in Africa (Nairobi and Addis Ababa). CTLGH's mission is focused on the development of tools, technologies and innovations to enhance productivity, resilience, efficiency and environmental sustainability of tropical livestock production systems through genetic improvement. CTLGH receives direct funding from the Bill & Melinda Gates Foundation (BMGF), The Foreign Commonwealth Development Office (FCDO), UKRI Biotechnology and Biological Sciences Research Council (BBSRC) and Jersey Overseas Aid (JOA). He has received numerous awards, recognitions and honorary appointments (USA, Africa, Australia) as recognition of his achievements.
Prof Appolinaire Djikeng holds a PhD from Brunel University, London, where he studied the Genome of the African trypanosome, Trypanosoma brucei.