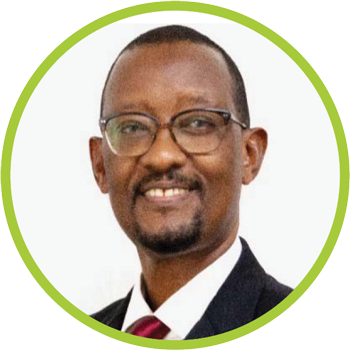 Dr. Canasius Kanangire
Board Member
Dr. Kanangire, who took over as the Executive Director of the African Agricultural Technology Foundation (AATF) effective from July 1st 2021 from Dr. Denis T. Kyetere, possesses more than 35 years' cumulative experience in different leadership roles. An astute administrator, academician, and internationally recognised professional, Dr. Kanangire is an experienced technocrat with a wealth of knowledge in leadership and management of international institutions, including developing strategic partnerships and networks at regional, continental and global levels with great ability for resource mobilization. 
Just before joining AATF, he served as the Executive Secretary at the African Ministers' Council on Water (AMCOW), a pan-African inter-governmental institution and a delivery mechanism on water and sanitation for the African Union between September 2016 and May 2021. Dr Kanangire's career path has also seen him serve at the Lake Victoria Basin Commission (LVBC) as the Executive Secretary between 2011 and 2016, and the Nile Basin Initiative (NBI) as Head of Strategic Planning and Management between 2009 and 2011 and as Regional Manager of its Capacity Building program between 2004 and 2009. 
The one-time lecturer and Dean of the Faculty of Agriculture at the University of Rwanda, Canisius was also a member of the Board of Directors of ISAR (the Rwandan Institute for Agricultural Research) restructured into the current Rwanda Agricultural Board (RAB).
Dr Canisius Kanangire holds a doctorate degree in Aquatic Sciences and Master's degree in Freshwater Ecology from the University of Namur, Belgium.