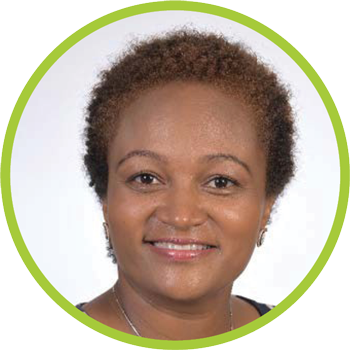 Dr. Charity Mutegi
Board Member
With a career straddling almost 20 years in food safety and post-harvest research and up-scaling of research outcomes in both public and private sector, Dr Charity Mutegi has a wealth of experience in, not just food safety, but also integrative research and its applications, building partnerships, leadership among many other fields; all in which she has made significant achievements. Charity's efforts in the agricultural sector/food safety have been recognized globally and nationally through many awards. She was the recipient of the Norman Borlaug Award for Field Research and Application, endowed by the Rockefeller Foundation, in 2013. She also received the IITA management award (2013), the Borlaug Leadership Enhancement in Agriculture Program (LEAP) fellowship award (2006). In addition, she was awarded the Gender and Diversity Women Scientists fellowship Award (currently AWARD) in 2006, named among Top 40 under 40 recipients in Kenya in 2014 by the Business Daily and one of the 15 Golden Girls by Kenya's Standard newspaper in the same year for her contributions in Agriculture and food safety matters. 
Charity's professional career began as a senior agricultural research officer at the Kenya Agricultural and Livestock Research Organization (KALRO). She has since advanced to her current role as a lead consultant in food safety, where she serves as the US Food and Agriculture Export Alliance (FAEA) Program Representative in Kenya, with a facilitative role in the on -going USDA- supported food safety legislation process  She also services International Institute of Tropical Agriculture-IITA's efforts in advancing aflatoxin mitigation solutions in maize, peanuts and sorghum value chains in the East Africa region. Additionally, she supports the United Nations Industrial Development Organization (UNIDO) in aflatoxin mitigation efforts in groundnuts, macadamia nuts, herbs and spices value chains.
In between, she has worked as a scientist at the Consultative Group for International Agricultural Research Centre (CGIAR) –initially with the International Crops Research Institute for the Semi-Arid Tropics (ICRISAT) as a visiting scientist and later for about 10 years at the International Institute of Tropical Agriculture (IITA). She also worked as a National Postharvest Consultant for the United Nations Food and Agriculture Organization (FAO).
Charity is a licenced Global G.A.P Farm Assurer supporting producers in complying with global food safety standards for export produce. 
She has published widely in peer-reviewed journals and publications, and participated extensively in food safety capacity building initiatives for various stakeholders in the agricultural sector. 
Dr Charity Mutegi holds a PhD in Food Security from University of KwaZulu Natal, South Africa (research focus on aflatoxin contamination and control in the peanut value chain in western Kenya)