When passing through certain streets in Nairobi, you would not be mistaken to think that there is an upsurge in car boot sales. There is. However, instead of the typical setting where individuals congregate to sell household goods and fashion items they no longer need, Kenyan farmers and urban food traders have converted this boot sale idea into makeshift markets for selling farm produce. 
According to Mr. James Kamau, a 35-year-old farmer from Kiambu, a county bordering the nation's capital Nairobi, disruptions in the agricultural and food supply chain warranted by the COVID-19 pandemic has called for creative ways of selling their farm produce. "With schools closed, restaurants partially operating, and business in open-air markets significantly affected due to the stay at home orders, sales from our farms are at an all-time low."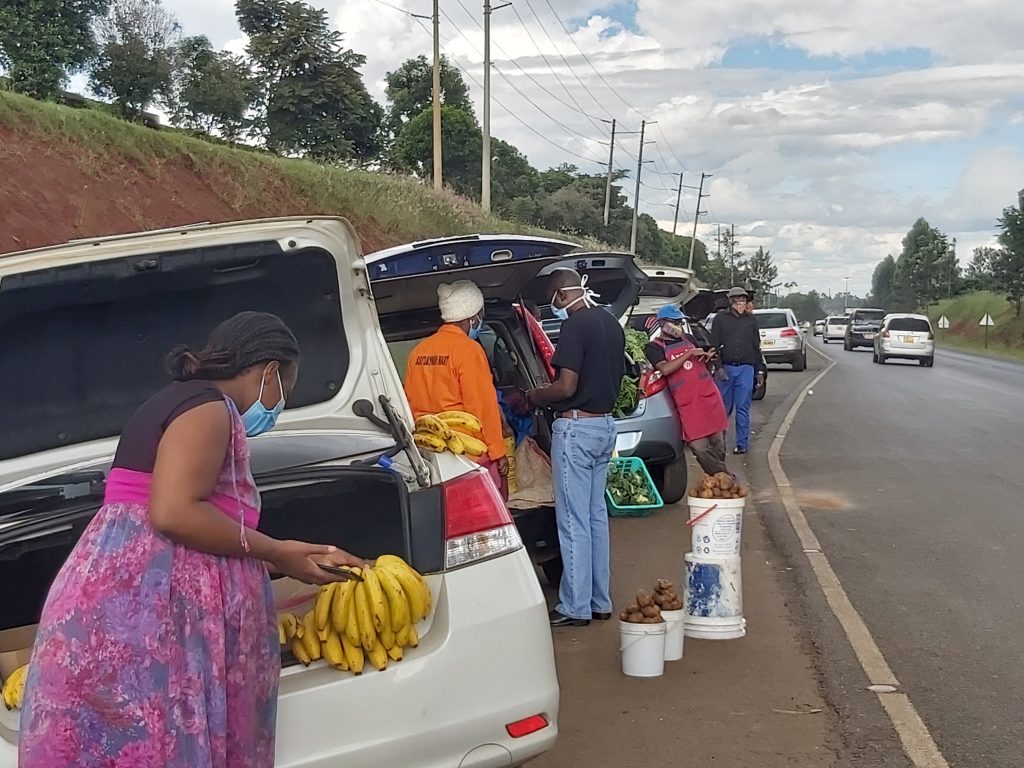 For farmers like James, this has necessitated the need to come up with alternative ways of marketing their produce to address the glut. Besides the boot sales, farmers and traders are also taking to social media and e-commerce sites such as mkulima young to continue earning a living.  
In neighboring Rwanda, the situation is slightly different. The capital Kigali is under a complete lockdown. It is unlikely you will find random improvised markets by farmers and traders. Things are a lot more systematic here. In an effort to decongest marketplaces, district authorities have shifted trading activities from city markets to bus parks that are now idle due to the temporary suspension on public transport. In addition, the authorities are working with private sector to map out sites in various neighborhoods that can be converted into food shops to minimize movement and congestion in typical markets.
Like Kenya, Rwanda has clamped movement in and out of its capital, except for agricultural produce and other cargo items that have been classified as essential services. This exemption has provided small-scale farmers with a lifeline as their produce can still be transported to the city. However, the situation could be better. Curfews and other bottle-necks that come with the movement restrictions have significantly reduced market access. Irambona Anatole, a 37 year-old potato farmer from Rwanda's northern Province says that COVID-19 is affecting farmers as the number of clients who used to come and buy their harvests from Kigali has significantly reduced. "In this area, it was easy to see more than 15 lorries coming to collect harvests. Nowadays, we only see one or two per day."
Grim Choices: COVID-19 versus Starvation
Unlike in the developed world, African decision-makers are facing a unique challenge. They have to strike a delicate balance between implementing policies that curb the spread of COVID-19, while factoring what the majority must do to earn a living and put food on the table. Bulk shopping and stocking up on food reserves is a luxury that most in this part of the world cannot afford. As a result, decision-makers cannot mirror policies being implemented in other places without factoring our unique context. 
To cushion farmers, for instance, a number of African governments have developed guidelines to enable farming communities to continue with agricultural activities. While supply chains for inputs and outputs in this sector continue to function despite lockdowns, efforts to ensure operators are observing safety guidelines to minimize spreading the virus need to be intensified. Which begs the question, beyond media briefings, what measures have been put in place to convince farmers, traders, and other key players along the food and agricultural value chain, to follow safety guidelines?  
Kenya's Chief Administrative Secretary in the Ministry of Health recently registered her concerns after randomly visiting an open-air market and realizing traders are not adhering to social-distancing guidelines and wearing masks appropriately, as per the government's instructions. In addition, cash in these markets is still king despite calls to use alternative cashless payment methods. These challenges are tantamount across the region. Therefore, given complete lockdowns are deemed as "unfeasible, impractical, and arguably counterproductive in low income countries, especially across sub-Saharan Africa," what other measures can decision-makers put in place to safeguard the population?
Over and above, African governments must allocate resources towards the generation of context-specific evidence needed to guide decision-making. In addition, researchers must be responsive to the public's needs and priorities and put in more effort towards engaging policymakers. Finally, knowledge brokers should work closely with decision-makers and researchers to bridge the gap and ensure the generated evidence translates into policy and action. 
Bibiana Iraki-Kipkorir is a Program Officer at ISAAA AfriCenter. You can reach her on biraki@isaaa.org.
Acknowledgment to Jean Claude Habimana, A Science Communication Specialist based in Kigali, for interviewing the farmer from Rwanda.