A cassava resistant to Brown Streak Disease (CBSD) can be an excellent alternative in alleviating hunger especially in situations of prolonged drought. This emerged during a biotech cassava sensitization workshop and seeing-is-believing study tour bringing together Kenyan biosafety regulators and government technocrats from key line ministries. The event, organized by ISAAA AfriCenter and the Kenya Agricultural and Livestock Research Organization (KALRO), was held at KALRO-Mtwapa, Coastal Kenya.
The team observed the difference in performance and vigour between disease-resistant genetically modified (GM) cassava and conventional varieties. They expressed their appreciation on the performance of the GM cassava and demonstrated clear understanding of the benefit of the disease-resistant crop. The team also applauded efforts by local scientists to develop the GM cassava.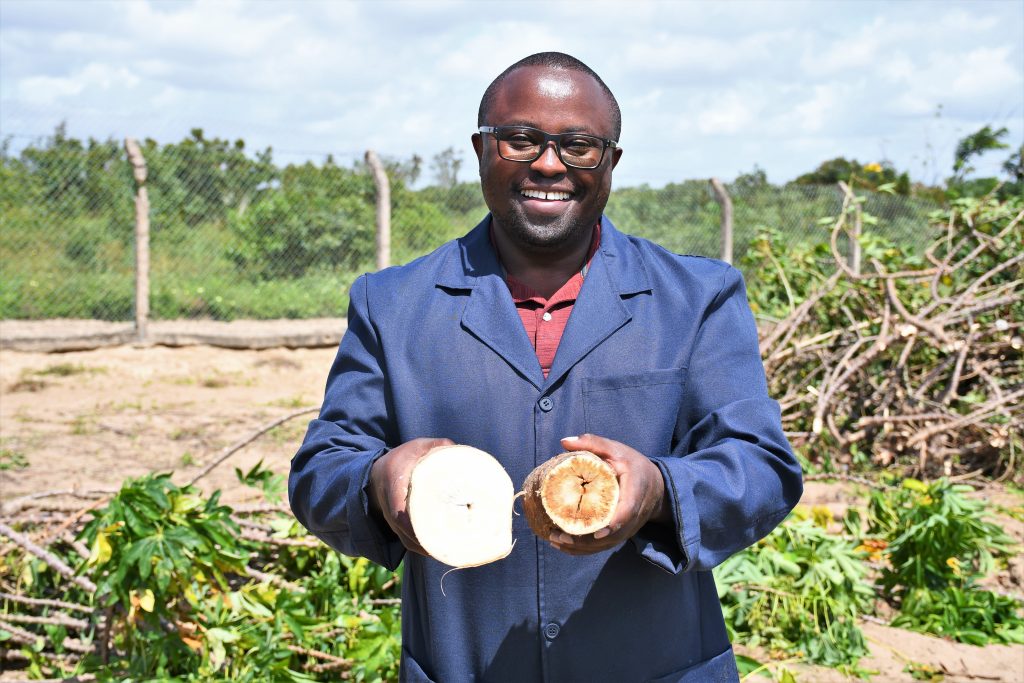 "We commend the scientists who have been at the forefront in developing this crop, as well as the National Biosafety Authority (NBA) for the cooperation in closely monitoring the process, an important factor in ensuring progress of the project," said Prof Ratemo Michieka, the chairperson of the National Research Fund and Board Member of ISAAA AfriCenter.
The developed GM cassava has been approved for environmental release and is now awaiting clearance from the National Environment Management Authority (NEMA) to move to national performance trials (NPTs).
The scientists led by the Virus Resistant Cassava for Africa (VIRCA) Plus project Principal Investigator Prof. Douglas Miano voiced their plea for speedy resolution by NEMA. "The ripple effect of not delivering the improved crop materials to farmers in time is loss of opportunity to utilize one of the solutions to the acute food shortage in the country and loss of potential revenue," said Prof. Miano.
Dr. Eliud Kireger, the Director General of Kenya Agricultural and Livestock Research Organizations (KALRO) while opening the meeting thanked the project partners and called for increased cooperation to create awareness about the crop. The NBA Acting CEO Dr. Roy Mugiira called on the mandated regulatory agencies for a coordinated approach to streamline any overlapping mandates that may impede timely decisions on products of genetic modification such as the disease-resistant GM cassava.
Regulatory agencies represented at the sensitization workshop include NEMA, NBA, Kenya Bureau of Standards, Kenya Plant Health Inspectorate Service, Department of Public Health and the Ministry of Education among others.
VIRCA Plus is a collaborative project involving KALRO, the National Agricultural Research Organization (NARO) of Uganda and the Donald Danforth Plant Science Center, USA.