The year was 2017. Fall Armyworm had just been reported in Trans Nzoia County, in Kenya's Rift Valley, and was quickly spreading to other regions in the country. It was a new and strange pest to many, including farmers, who were now grappling with fears of up to 100% crop failure. Farmers were used to simple ways of eliminating pests, including use of pesticides. However, the fall armyworm was proving to be a challenge. Nothing was working. The Ministry of Agriculture stepped in through its extension programme, but the menace continued. 
The GMO factor
In my line of duty, I highlight farmers' pleas. This was no different. I took to visiting affected farmers, not knowing how I could help. I did my part by airing their challenges on radio. The media was not short of stories on the fall armyworm. However, despite all the publicity, the pest continued to ravage through our maize fields.
Unexpectedly, during this very desperate period for farmers, I received an invitation from ISAAA AfriCenter to visit a genetically modified maize confined field trial (CFT) in Makueni County, eastern Kenya. Not knowing what to expect because of the negative stories I had heard about GMOs, I accepted the invitation, albeit with very little enthusiasm. 
Our study tour of the Water Efficient Maize for Africa (WEMA) field trial site begun with a short presentation about the project, and how they had achieved what we were about to witness. A few of my concerns were addressed during that session. However, I was still curious to see what this GM crop looked like in real life, and a little skepticism still lingered in my mind. 
Upon arriving at the CFT, I was amazed that the maize crop was truly just like any other! The myths about size were really just that – myths! What struck me most was the astounding difference between the conventional maize varieties planted alongside their Bt maize counterparts. The fall armyworm damage was significantly less visible on the GM crops, whereas the conventional varieties `had suffered some substantial damage. The difference was as clear as night and day!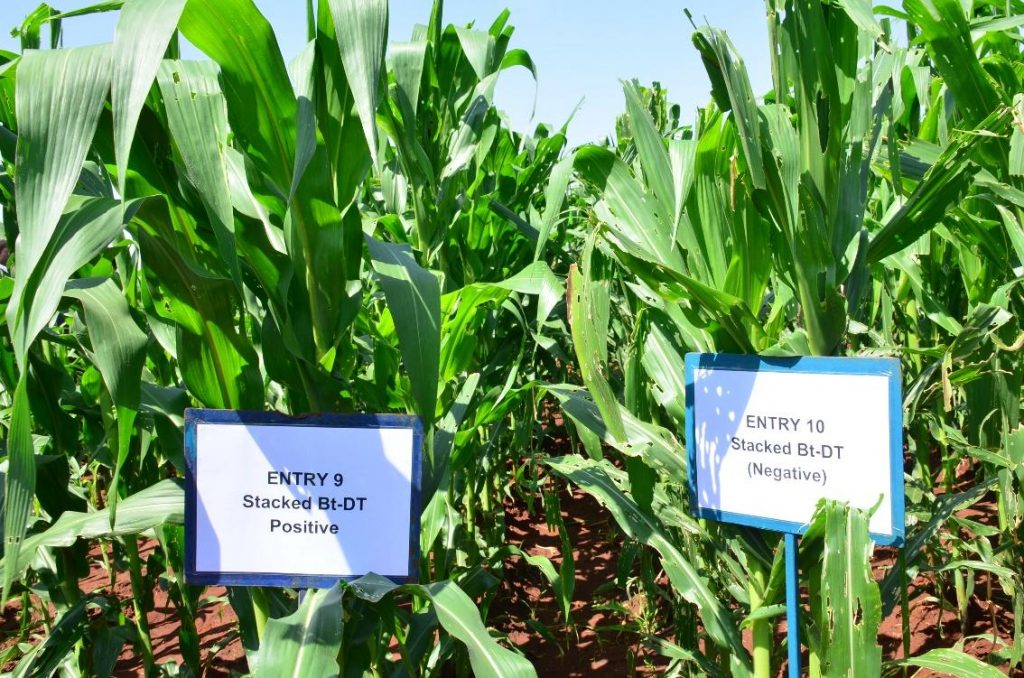 The stark difference we witnessed during the ISAAA-led WEMA maize study tour
Undoing the damage
Following my experience and exposure, I went back with a different story. This time, it was a story of hope. From that point, my curiosity and thirst for the truth became insatiable. I knew deep down that I had to undo some of the damage caused by misreporting on this technology. It dawned on me that this technology could offer a plausible solution towards various challenges faced by farmers, and increase their yields while reducing sprays in certain cases. However, sensational reporting was partly coming in the way of that.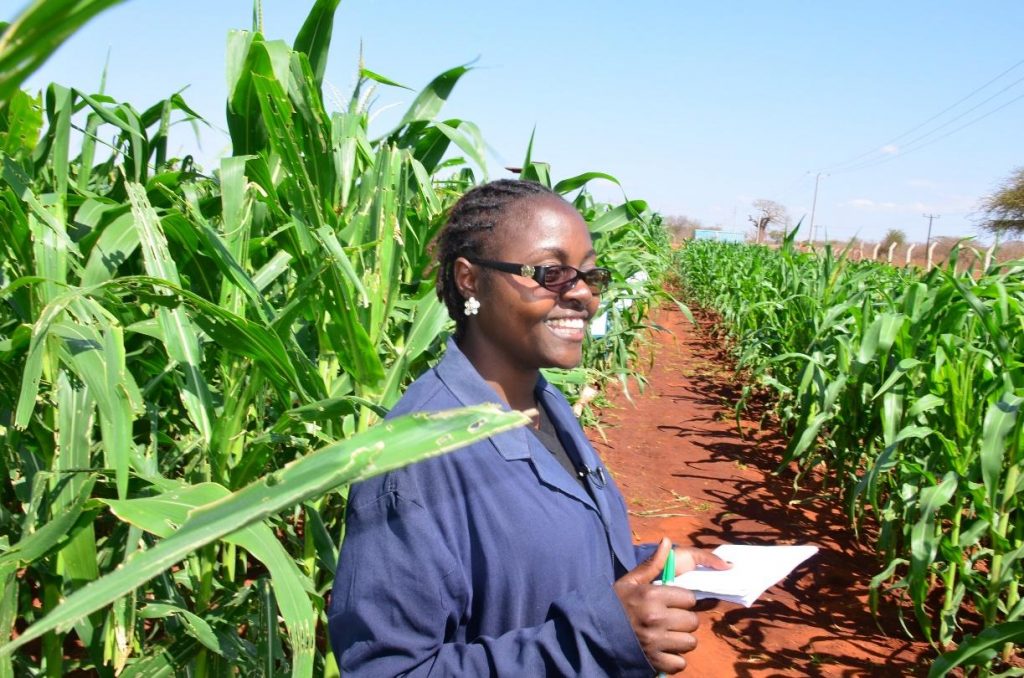 Witnessing a GM Crop for the first time during an ISAAA-led WEMA maize study tour in eastern Kenya, 2017
ISAAA AfriCenter saw my passion and were persistent in taking me for trainings, study tours, and exposing me to a lot of information on different biotech crops, including virus resistant cassava and Bt cotton. I did my part and aired numerous stories that were backed by scientific facts. I made use of the expert sources that were availed and my efforts paid off as my stories were being noticed. This was confirmed when I was recognized as the first runners-up during the Open Forum in Agricultural Biotechnology (OFAB) Media Awards in 2018. My passion and persistence to educate the public about GMOs has opened other doors. I am currently at Cornell University undergoing the Alliance for Science Global Leadership Fellows Program.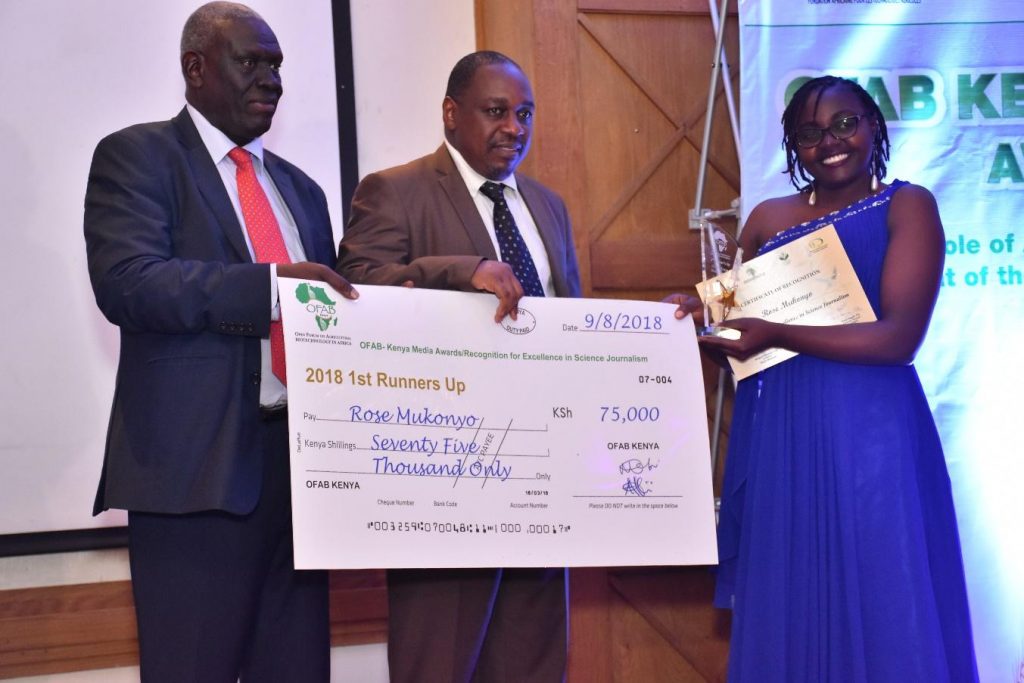 Receiving my prize for first runners-up at the OFAB Media Awards in 2018
I feel indebted to inform my people why it is necessary to embrace scientific innovations to alleviate them from hunger and poverty. Although the operating policy environment in Kenya is currently unfavorable due to a GM ban, I plan on pressing on and sharing the GMO message with all relevant stakeholders until something gives. It's only a matter of time!
Rose Mukonyo is an award winning radio journalist from Kenya. You can reach her on rosemukonyo2016@gmail.com