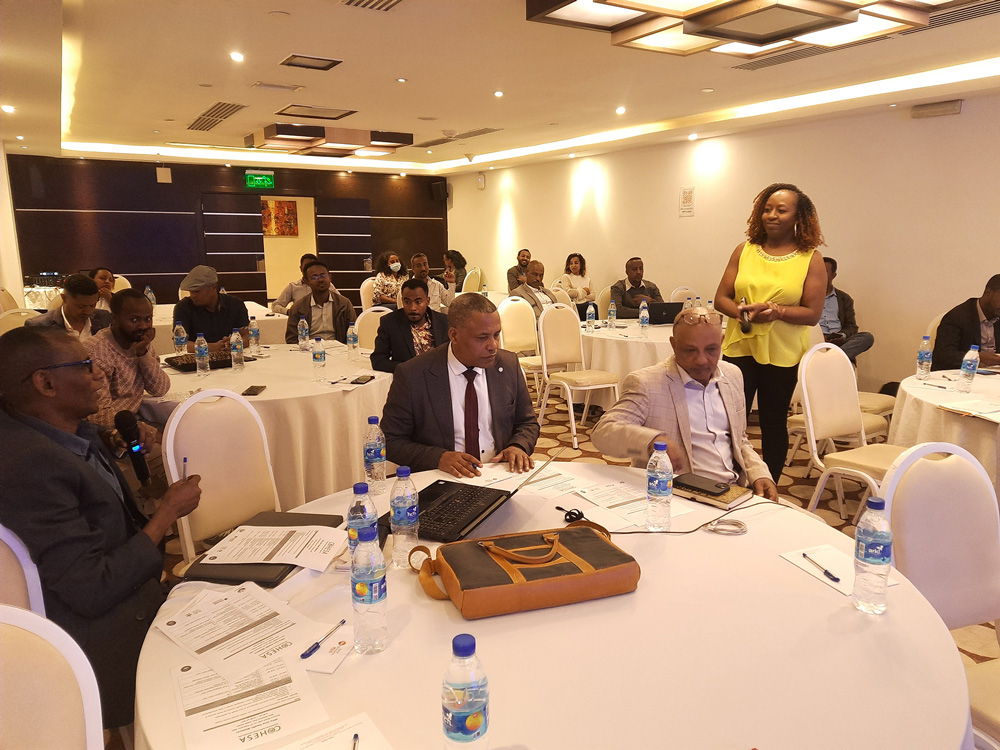 The National One Health Steering Committee in Ethiopia and the University of Addis Ababa with support from Capacitating One Health in East and Southern Africa (COHESA), and under the guidance of ISAAA AfriCenter organized a media science café on 17th February 2023 in Addis Ababa. The theme for the media science café was "Why One Health Matters" with the objective being to increase public awareness and embed the One Health concept across society.
During the event, Ethiopian journalists were sensitized about the significance of One Health for sustainable development. Both journalists and scientists were challenged to strengthen their networks and create an amicable environment to share relevant and timely information on research outputs for local beneficiaries. 16 media representatives from radio, print and television were present during the event while the experts from animal, plant, human and environment health sectors were 6.
Speaking at the event, the chair of the National One Health Steering Committee, Dr. Feyessa Regessa reiterated the need for the media to understand the One Health concept for accurate reporting of One Health issues and solutions in the country. He noted the efficiency of a holistic approach to health and gains made by the steering committee to coordinate efforts in achieving health for animals, plants, humans, and the environment. 
The University of Addis Ababa liaison, Professor Mirgissa Kaba asked the media to increase their coverage of One Health stories and spur the attention of policymakers on One Health. "One Health is a reality at the moment, the only option we have is to make it work and especially for us, to address our needs. I urge you the media to work with us scientists so that we can reach the important people and enlighten them to join us in achieving One Health," he remarked. 
Representation from the media through Mr. Mekonnen Teshome, a science jounalist also encouraged scientists to reach out to them and be bold to share their findings and progress. It was noted that a two-way effort was needed to bridge the gap between journalists and scientists. The technicians were given tips on how to simplify their results and journalists were shown how to translate technical findings for the public while retaining accurate information and their business of making newsworthy content.
A joint discussion session between the scientists and journalists capped the event as they brainstormed on how to improve accurate reporting and the opportunities present for both fields to work together collectively. It was agreed that more similar sessions need to be held regularly. In addition, journalists and scientists need the capacity on reporting health-related issues for public consumption. A clear strategy drafted by scientists and journalists is in the pipeline for Ethiopia to have the One Health practice embedded in the society, and supported by policy.