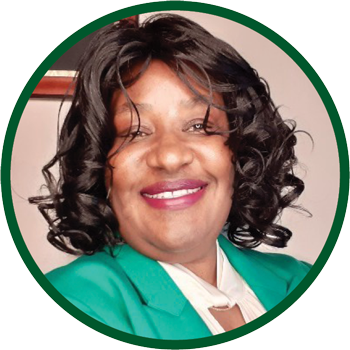 Dr. Dianah Ngonyama
Board Secretary
Dianah Ngonyama is currently the Research Integrity Officer at Iowa State University located in Ames, Iowa (USA), where she is responsible for maintaining the institutional integrity of Iowa State's research conduct. Holding more than 25 years of international experience working with various agricultural technologies, she possesses unique expertise perfected through her range of experiences in both academia and the industry. Prior to joining Iowa State, Dr. Ngonyama spent more than 12 years with Monsanto company (now Bayer) and J.R. Simplot, contributing to the successful development and commercialization of various plant biotech products that benefit farmers around the world. Her work included leading the WEMA Biotech project, a Public-Private-Partnership project funded by the Bill & Melinda Gates Foundation (BMGF), from its inception in 2008-12. Her responsibilities expanded to include representing these companies when engaging with regulatory agencies in US, Canada, and other international bodies, on a range of issues ranging from biotech stewardship, regulatory policies, and compliance.
Dianah is a certified Global Auditor for ISO and the Excellence Through Stewardship (ETS) for biotech-derived material and has been at the forefront of advocating for creation of progressive agricultural policies promoting global seed trade to ensure that farmers around the world and especially in Africa, have access to new technologies and quality seeds. In addition, Dr. Ngonyama has been providing biotech stewardship advisory services to organizations such as the International Potato Center (CIP) and the International Institute of Tropical Agriculture (IITA), supporting their efforts to ensure late-blight disease resistant potatoes (3R Victoria potatoes) and disease resistant bananas, respectively, are commercialized to benefit smallholder farmers and millions of consumers across the African continent.  Earlier during her career (during 1991 – 2000), Dianah worked as Principal Research Officer responsible for pasture and rangeland development at Henderson Research Station, Zimbabwe.
Dr. Ngonyama has likewise worked in academia both in US and Africa, and at one time served as the President of the Association of African Agricultural Professionals in the Diaspora (AAAPD) from 2016 – 2019. Her success in leading large collaborative research programs following ethical conduct principles of honesty, integrity, respect, and transparency saw her gain much recognition from her peers and building trust with stakeholders. She is also involved in volunteering and charity-giving, both in US and Africa, and holds professional membership with a number of associations in both North America and Africa. Dianah also has professional accreditation with the American Registry of Professional Animal Scientists and has been conferred with a number of awards, including the Beit Scholar, W.K. Kellogg Fellow, and Above and Beyond performance awards in industry, as an acknowledgement of her work. Hence, Dianah's time-honored industry experience spans across a number of international corporations, institutes/universities and non-profit organizations where she has held key positions and made significant contributions to agricultural development.
Dr Dianah Ngonyama holds a PhD in Agriculture (Corn quality traits for Dairy production) from the University of Wisconsin – Madison and a Master's degree in Business Management (MBA) from Maryville University both in the US, a 2nd Master's in Animal and Forage Science from University of Reading, UK and a Bachelor's degree from the University of Zimbabwe.