We may have varied opinions on what biotechnology can do for Africa. Nonetheless, my personal journey in this field is a story of success that lays open how the technology can be a massive earner worth investing in. With close to two decades' worth of experience in agri-business, and as someone who assembled one of East Africa's first privately owned tissue culture labs from my kitchen, allow me to indulge you.
While preparing for transition from a job in a major telecommunications network to take up a new posting outside of Uganda, the idea of starting a tissue culture lab struck me. This interest was spurred by my knowledge in agriculture, having obtained a Masters degree in this field. Little did I know that this would one day transform my life and that of millions of Ugandan farmers.
What was a small laboratory confined in my kitchen grew up to be one of the biggest private companies in Uganda. The company, Agro-Genetic Technologies Ltd (AGT), was the first to commercially apply biotechnology, through tissue culture. With only two employees during its inception in 2002, to a current permanent staff size of 67, and over a thousand on a seasonal basis, AGT has etched a name as one of the leading agricultural biotechnology enterprises in the region. What started as a hobby for me is now raking a fortune and by extension feeding millions of Ugandans and their families. What is more? It is a direct source of livelihood for the more than 1000 employees. This is a testament of how agricultural biotechnology can be a job creator, money maker and game changer.
Filling the gap
Bacterial wilt ravaged plantations in Uganda, creating an urgent need to develop disease-free planting materials. Biotechnology offered a cheap, fast and reliable method to fill this gap. Demand is so enormous that we currently produce over three million banana plantlets annually. This has led to establishment of yet another AGT wing, the Centre of Irish Potato, located in Uganda's capital, Kampala. The Centre, which propagates second generation Irish potato seeds, serves an ever-rising need for tubers in Rwanda and the Democratic Republic of Congo.  At least 500 tons of certified Irish potato seeds are produced in our 100-acre piece of land.
Undoubtedly, biotechnology gives agriculture an edge as a favorable sector to unlocking Africa's potential in entrepreneurship, especially for the youth. This revolutionary technology provides an opportunity that can excite young people and lure them back into farming.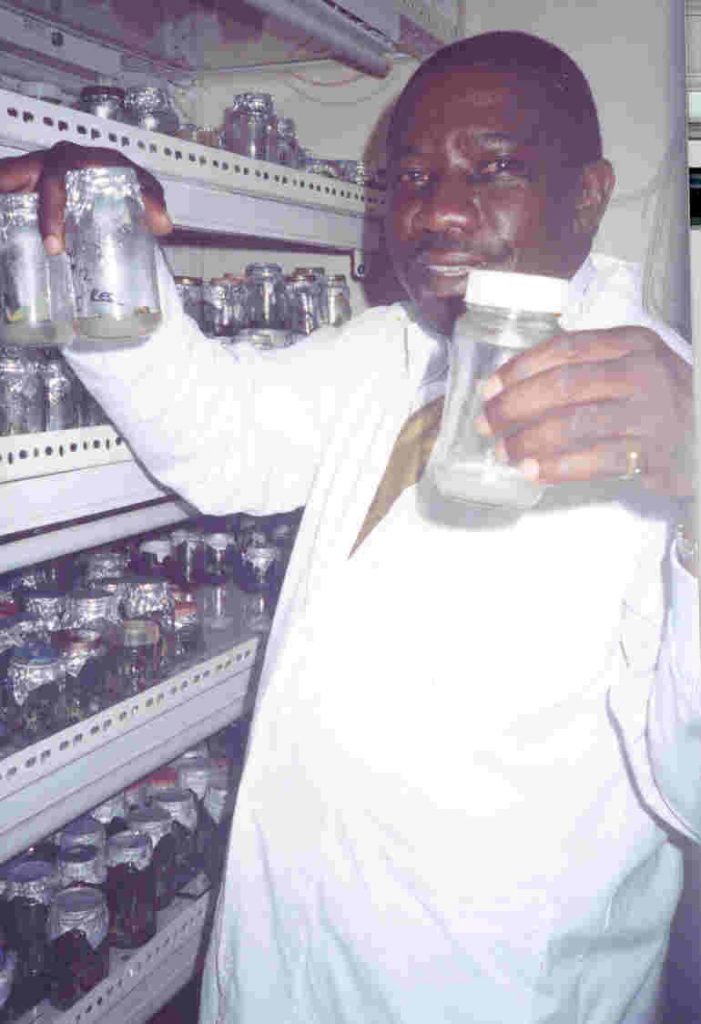 Erostus in his Kitchen lab with recycled jars
The naysayers
Plant tissue culture was a contentious issue in Uganda at the time I started. Almost all quarters of society were opposed to this technology. My first production of about 5000 banana plantlets went to waste since convincing the population to embrace the product was impossible. To win public trust and build acceptance, my team selected a number of farmers to be in charge of weaning and hardening of plants in the nursery. We also rolled out a rigorous capacity building and awareness program.
Farmers' involvement and endorsement catapulted the project to success, leading to expansion and establishment of planting materials distribution networks within and beyond Uganda. The growth of AGT attracted the attention of organizations such as ISAAA AfriCenter who saw the potential of reaching out to farming communities and helping them combat crop diseases. Through ISAAA's support, we expanded the distribution networks and AGT now boasts of 26 networks.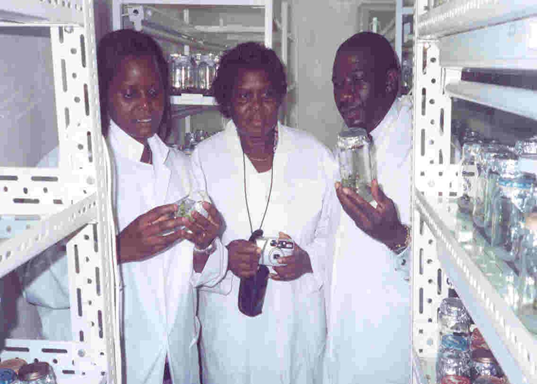 There is no denying that this science has been shrouded in controversies, with activists opposing every effort to apply modern biotechnology in agriculture. Misconceptions abound about GMOs, creating major hurdles in commercializing crops that can address unique challenges facing the continent. This ideological war continues to deny famers the right to choose, hampers business opportunities and creates an opportunity cost for millions of Africans. Despite resistance at the onset, plant tissue culture in Africa is being embraced. So will genetic modification. We need to cease the moment, shed off our victim mentality and invest in a technology that has a track record of over two decades of success.
Policy Environment
As modern biotechnology presents exciting investment and business opportunities, the biotechnology policy environment in the region in unfavorably skewed against the private sector. After all, who wants to invest in an enterprise where the regulatory environment is unpredictable and you can be sued for imaginary damage? Our policy makers need to be guided by credible scientific evidence and create a predictable and workable environment that will attract investors.
In Uganda, there is a big debate around the National Biosafety and Biotechnology Bill. Most of those drawn into the discussion lack expertise in this field and trade misconceptions. It is high time that parliamentarians engaged experts to help them make informed decisions concerning biosafety laws. To blow up the debates and give room for lies to be traded around serves doom for many Ugandans and Africans who want to invest in the technology.
Lastly, we may seem as if we are not moving forward as expected, but my experience in tissue culture tells me the technology is gathering momentum. It is akin to the early stages of mobile telephony that were marked with a lot of backlash but later picked up tremendously. Africa is an agricultural continent and modern biotechnology is an economic revolution that we should not miss. The opportunity for Africa is ripe. We should go for it now.
Mr. Erostus Nsubuga is the founder and Chief Executive Officer of Agro-Genetic Technologies (AGT) Limited. He also Chairs the Uganda Biotechnology and Biosafety Consortium (UBBC) and sits on the Presidential Technical Advisory Committee on Business Competitiveness in Uganda. He is also a Board member of Uganda Sickle Cell Rescue Foundation (USCRF)