The AfriCenter family wishes to express our sincere gratitude for your continued support and dedication towards unlocking Africa's potential in modern agricultural biotechnology. In 2017 we devoted our efforts towards identifying new ways of maximizing reach and impact.
In our core knowledge-sharing program, the Center continued to serve information needs of different stakeholders, in an effort to quench Africa's thirst for credible scientific information on biotech crops and biosafety. We conducted a virtual launch of the ISAAA Annual report on Global Status of Commercialized Biotech/GM crops (Brief 52) through our wide network of science journalists. This was complemented by physical launches in selected six African countries, garnering more than 5 million media impressions. The launches provided  platforms for positive policy pronouncements in support of the technology. The Center also repackaged Brief 52 into simplified knowledge products for policy makers.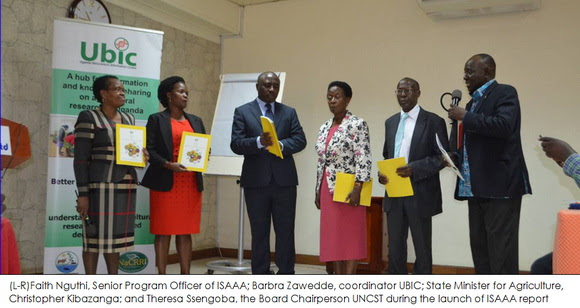 AfriCenter acknowledges the distinctness between knowledge sharing and communication. As a result, we, together with partners: COMESA, OFAB-Kenya, PBS, and VIRCA Plus, invested heavily in mentorship and outreach activities that enabled two-way communications. The activities were very effective in reaching out to grassroots communities and identifying various concerns and background conversations held by key agri-biotech and biosafety stakeholders. This has enabled us to effectively develop responsive messages and knowledge products that address those concerns.
To streamline outreach for maximum impact, we facilitated creation of three key networks namely: Society for Biotech Farmers of Kenya, a farmer's movement championing the course for biotech crops and a responsive agri-biotech policy environment; Women for Biosciences Network which seeks to amplify women's voices in the biotech and biosafety discourse while highlighting their challenges; and a Regional Network of Policy Reform Advocates, comprising of business community members championing for agri-biotech in local policy circles. These networks will undoubtedly play a key role in facilitating evidence-based policy and programmatic actions.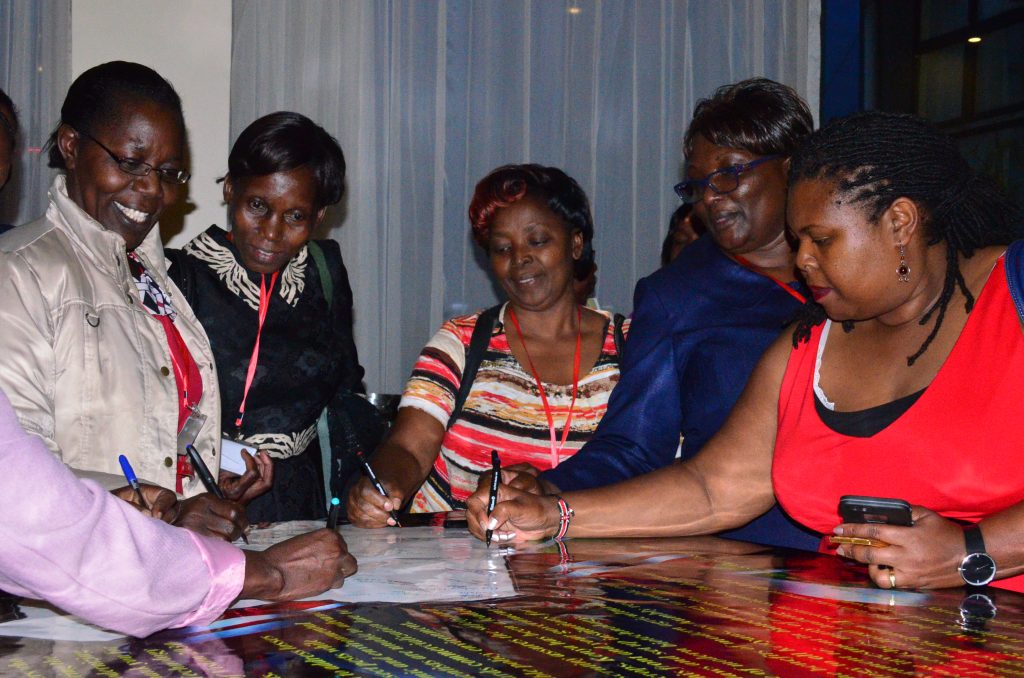 The Center, through its pioneer seeing-is-believing study tours, exposed over 150 key stakeholders in Africa to agri-biotech and biosafety advancements, both locally and globally. These exposure visits provided experiential learning while revealing the technology's potential and the region's progress and capacity. Our colleagues at the South Asia Biotechnology Center in India for example, hosted Uganda's Minister for Science, Technology and Innovation, Dr. Elioda Tumwesigye, who played a fundamental role in passage of Uganda's National Biosafety Bill. This exposure visit contributed towards his appreciation of the technology, partly enabling him to more confidently steward parliamentary debates on the Bill. Another study tour by Kenya's board chairs of key regulatory agencies and cotton subsector players to Malawi's Bt cotton National Performance Trials (NPTs) provided useful insights on the experimental design as the country gears to plant its NPTs in early 2018.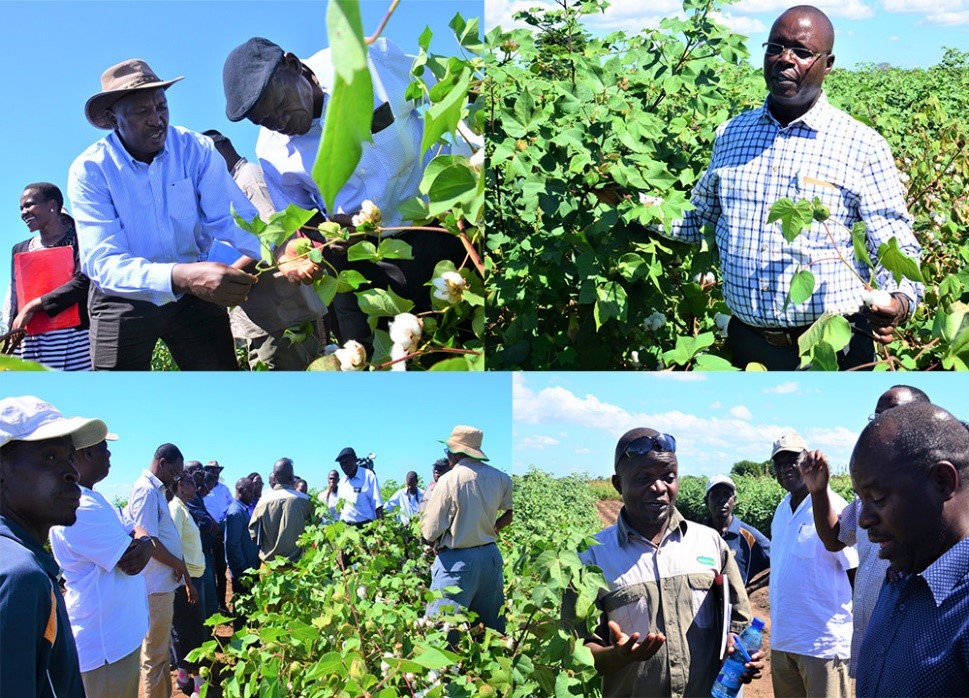 AfriCenter and her key partners continued to invest in building the capacity of those who play a role in shaping public opinion on biosciences and biosafety. We held close to 10 science communication training workshops in 2017, targeting over 300 participants. Majority of them have reported an increased level of confidence in communicating with non-scientific audiences.
A major landmark under our capacity building program was hosting of the 2nd Agri-Biotechnology and Biosafety Communication (ABBC-2017) Africa symposium in Uganda. The forum, co-organized with 10 partners, involved over 100 biotech and biosafety stakeholders internationally. Themed "Strengthening Communication for Improved Biosafety Management", various communication approaches were interrogated and best-bet biosafety communication practices identified, with story-telling emerging top. A policy dialogue led by Uganda's Science, Technology and Innovation Minister Dr. Elioda Tumwesigye reflected on importance of evidence-based dialogue to build confidence and informed decision-making on the technology. The symposium attracted high social media traction becoming a trending topic in Uganda for three consecutive days. #ABBC2017 had over 1,600,000 impressions and reached over 200,000 followers.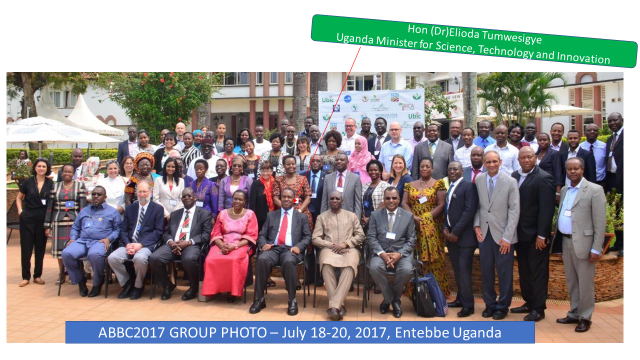 Further, the Center continued to engage media practitioners through various awareness creation and outreach activities, including seeing-is-believing biotech study tours and sensitization workshops. Together with COMESA, we held two regional communication workshops for media practitioners and social media influencers from Eastern and Southern Africa. These workshops have led to increased and more balanced reporting within the region. OFAB-Kenya, hosted by AfriCenter, also held a media recognition award to appreciate science reporters and their contribution towards public understanding of agri-biotech and biosafety. This is expected to encourage excellence in science reporting.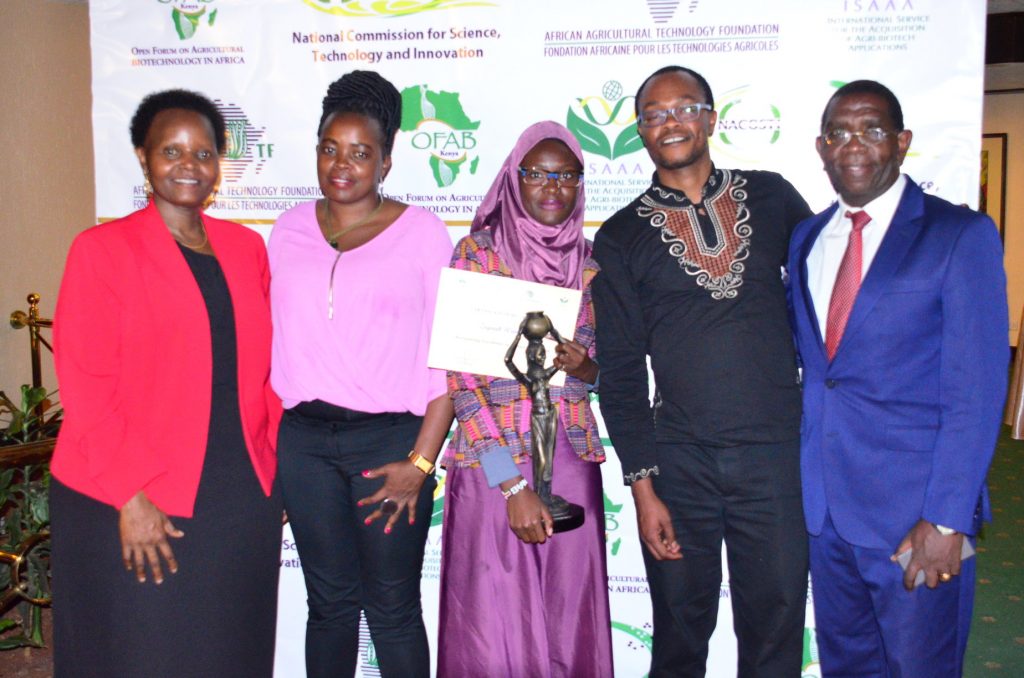 On the policy front, AfriCenter continued working closely with policy and decision makers to ensure they are well-versed with agri-biotech and biosafety advancements both locally and globally. This was achieved through sensitization workshops, round table meetings and biotech study tours.
Indeed, 2017 has been a lively year for the AfriCenter as we sustained our momentum in championing for an enabling environment for agricultural biotechnology development in Africa. However, we could not have attained our achievements without the support and belief from partners and collaborators. So, to you whose confidence continues to inspire us; our funders whose unwavering support has made our work possible; and to our Board who continue to model dedication and service, we are indeed grateful. We look forward to your continued collaboration in intensifying the sharing of knowledge for informed policy and choices in Africa.
On behalf of the AfriCenter family, I wish you and your loved ones a refreshing festive season and a Prosperous 2018!!